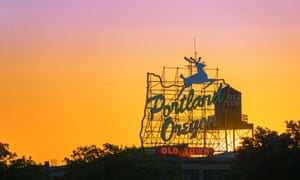 On the morning of 21 August, several hours after daybreak, a solar eclipse will plunge the city of Portland, Oregon into a twilight-like state. The temperature will drop; birds and other wildlife will start making noises, tricked into thinking they should prepare for bed. At 10.19am, the moon's shadow will pass over the sun in the state's most populous city, blocking 99.44% of the glowing orb at its peak. For mere minutes, viewers will have a chance to experience a rare astronomical event that hasn't been visible in the US since 1979.
The Great American Eclipse, as it's been dubbed, will first make landfall in a small town on the Pacific coast and within about 90 minutes streak across the country until it disappears in Charleston, South Carolina. One million people are expected to head toward the path of totality, an approximate 70-mile wide band where the entire sun is blocked by the moon's shadow.
The population influx is something Oregonians are not unfamiliar with. For the past couple of years, Portland's reputation as having an affordable yet high quality of life has resulted in sudden population growth – which, in turn, has spiked property values and led to rapid gentrification.
Bristol Urban Apartment Employees taking a break to see the Great American 2017 Eclipse…..